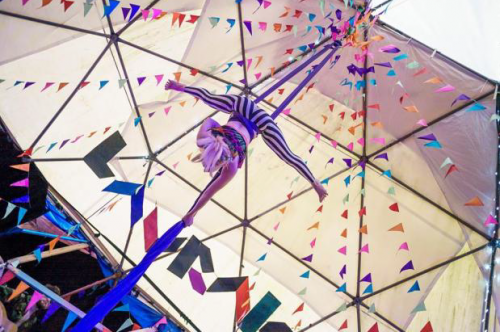 We're fans of corporate events with a twist and loved the idea of circus performers showing off their skills in our historic mansion, so we asked Amy from Lavrak Circus, Bristol (a female-led alternative circus company) to write a guest post for Leigh Court about how the circus can benefit business community.
Entertainment
From huge well-known companies such as Blue Man Group and Cirque Du Soleil to small home-made circuses; circus has been providing unique, original and damn right impressive entertainment for 250 years. This year marks the 250th year that circus has been around, and hasn't it developed? We have all heard of, or maybe even seen some traditional circus using animals, big tops and garish costumes. Now disolve that picture for a moment; what if circus entertainment could include dance, theatre, aerial, hula hoop, acro and even more? The world class tricks, but with a bit more… class. Enter contemporary circus entertainment.
Whether it's for the Christmas party, a big event, or even a networking meeting; circus is a great way to raise the profile of an event adding something unique, and creating a great conversation starter.
Team building
Within the business community circus can provide exciting, original and hugely effective team building exercises. Aerial is a great way to encourage team work, helping one and other work out where to put one's limbs while upside-down.
For the less daring folk, there is hula hoop, poi, juggling and other ground based props. Juggling has been shown to develop the white matter of the brain, further connecting different parts of the brain.
A 2009 study by Oxford University shows that learning to juggle changes the white matter in the brain; 'White matter consists of the bundles of long nerve fibres that conduct electrical signals between nerve cells and connect different parts of the brain together.' It has also been said to promote mindfulness and a relaxed and, therefore; productive attitude.
As if that wasn't enough, circus is also a good way to get fit, gaining exercise, while having a great time with co-workers.
What's more, anyone can try circus, it's an incredibly inclusive art; and fantastically rewarding.
Tips and advice
Give it a go! You don't know until you try
If you'd rather sit back and leave it to the pros, add something special to one of your events and get some circus performers along
For more information go to  www.lavrak.org
Content contributed by Amy Nicholls, director of Lavrak Circus, Bristol.