You're about to start planning one of the biggest days of your life that you will remember forever.

So what should you do next? How long can you leave things before you start planning? Are there people you need to tell?

We've put together a few hints and tips of what to do after you've said yes.
Enjoy the moment
It's not every day you get engaged so take some time to sit back and enjoy it! If you want to, take a few days for just you and your partner to relish the excitement and celebrate before you spread the word about your news!

Tell your family and friends
Before you announce to the world on social media, think about who you would like to tell in person first. Your family and closest friends will probably be just as thrilled about the news as you are and it's nice to be a bit more personal and tell them face to face. Once you've done that, you can go to town changing your status to 'engaged' and posting that ring selfie.

Start thinking about your wedding budget
It's important to know your budget from the start, as this will influence the decisions you make later down the line! There's no right or wrong when it comes to what you spend on your wedding, but whether it's a budget celebration or an extravagant day, it's good to know what you are happy to spend from day one.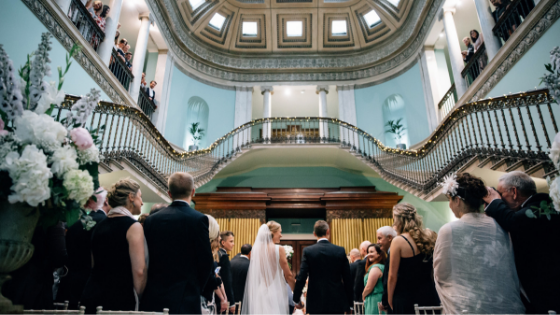 Think about the type of wedding you would like
Are you traditional all the way, with a local church wedding, or would you love to take your vows on a secluded beach? It's important to think about the type of wedding you want, and make sure you're both on the same page, plus fitting in with your budget!

Find a date to suit you
Setting a date doesn't need to be done immediately but having a think about when in the year you would like to wed is handy for when you're looking at venues, and getting an idea of other supplier's availability. It might help to set a theme for your nuptials too, depending on whether you want a floral summer wedding or a winter wonderland theme.

Work out the size of your guest list
You don't need to have an exact number or have names finalised, but it helps to have a ballpark figure of how many people you'd like to invite. The size of your guest list will affect which venues you can get married in – if your local church can only seat 50, but you want to invite 100, you may need to rethink! It might also influence what type of celebration you have for your reception –a sit down meal may be perfect for smaller numbers, but drinks and canapés could be better suited to a large party.

Choose your bridal party
Your bridal party will play a massive role in your big day, so it's important you choose people who you think will do the role justice. You'll want to have friends by your side who will support you through the run up to the wedding and on the day, but who will also make the whole process fun and memorable.

Plan your engagement party
Of course, you don't have to have an engagement celebration, but who doesn't like an excuse for a party? If you've already picked your bridesmaids and best man, you could even rope them in to help – it's never too early to start the celebrations!

Get your ring insured
It's a good idea to get your ring insured, in case anything was to happen to it! You can get separate jewellery insurance or some policies allow you to add it to your home's content insurance. Look around for the best deal to protect your sparkler!
Planning a wedding can be overwhelming, but remember it is your and you partner's day to celebrate and really that is all that matters – enjoy the process and your big day.