With strict government guidelines meaning only 15 people can attend a marriage or civil partnership, a lot of couples have decided to postpone their big day until some sense of normality returns.
However, there are some who don't want to wait any longer to get hitched. If that's you, we've put together some tips of what you need to consider when getting married during the COVID-19 pandemic.
Is your venue COVID-secure?
According to government guidelines, people 'can attend a marriage or civil partnership, where this can be safely accommodated with social distancing in a COVID-19 venue'. Most churches and other venues will have had to complete a risk assessment to prove they have taken measures to become a safe environment for people to attend. Look out for the Visit Britain 'We're Good to Go' Industry Standard, which is the recognised consumer mark of a COVID-secure venue. If you were planning to get married in a private dwelling or garden, this will not be allowed as these locations now come under the government's new 'rule of 6', where only 6 people are permitted to gather by law.
Do the new regulations mean changes to your ceremony?
With the government advising to keep weddings to the 'shortest reasonable' time and guests needing to keep 2 metres apart where possible (1 metre with other appropriate measures such as face coverings), talk to your venue about whether the plans for your ceremony need to be changed. For example, you may need to be moved to a different room where they can safely space out your guests, or the friend you had singing you down the aisle may now need to be a pre-recording. Your venue's event staff should be clued up on the changes, but if in doubt you can read the government guidance here.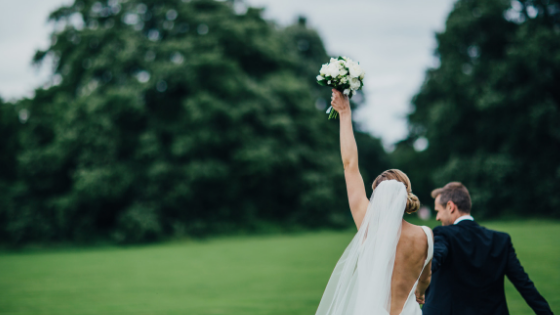 Are they able to include guests remotely?
If you are planning to go ahead with your celebrations, your guest list has no doubt had to be whittled down to your very nearest and dearest. There's plenty of ways you could still include guests who have to stay at home, such as remote recordings, live streams or video calls, so why not ask your venue if this is something they are able to accommodate? It could make all the difference to your big day.
Do they offer reduced price packages?
Some venues may have decided to put together some new wedding packages or reduced the price of their current ones during the pandemic. Make some enquiries about what they can offer for your new, smaller wedding or if there is anything special they are able to offer now that they may not have been able to do with larger numbers.
Are they able to offer a sit-down meal?
Receptions are still able to take place under the new government guidelines but 'only in the form of a sit-down meal'. If this is not what you originally had planned, check with your venue whether this is something they can offer, how many can be seated at each table (to help with your table plans!), how food will be served and what extra measures they have taken to ensure food safety. Lastly don't forget to see what the menu is like!
Getting wed during a pandemic is something that none of us have experienced before, but with a few preparations it can still be a special day to remember for all the right reasons. If you are eager to say I do and are looking for a COVID-secure venue, do not hesitate to get in touch with team at Leigh Court, who will be happy to answer any questions you may have.