Dogs are definitely man's best friend, but can you include them in one of the biggest days of your life?
It's becoming increasingly popular for couples we work with to have their pooch at their wedding day and we completely understand not wanting to leave them out of the celebrations.
If this is something you're interested in, we'd love to help you come up with ideas of how to include your four-legged friend as part of your wedding, from having them walk you up the aisle in The Great Hall, to posing for pictures on our lawns.
Below we've talked about ways you could include your dog in your nuptials, from having them play a part in the ceremony to taking pride of place at your reception.
Have them as a ring bearer
What is more important at a wedding but the gorgeous rings! Why not have your dog be star of the show by acting as your ring bearer? How fun does that sound? We've done this before with couples at Leigh Court and it is an incredibly cute way of getting your rings up the aisle, which definitely causes a reaction amongst your guests and makes for fantastic photos too! Your dog could carry a basket in its mouth, or have a cushion attached to their collar; it is a brilliant way to include them in the ceremony and our team love to help this idea come to life.

Include them in your photographs
The one big memento you will have from your wedding is your photographs, capturing all those special moments throughout the day. If your pooch is like family to you, plan some photos of your wedding party with your dog included in the line-up, it makes for a great picture and will be one to cherish for years to come! One of our recent couples, Chris and Karolina, had their dog join them for photos outside and we loved seeing their smiling faces and special bond! We're happy to suggest some great locations around the estate for that perfect picture.
Walk down the aisle with them
If you don't quite trust your dog to be a ring bearer on its own (we know some pups can be a bit 'spirited'!), why not have them walk down the aisle with you, or with one of your bridal party? You could even buy them some special attire for the occasion! We can assure you there will be lots of admiration for your furry friend and your guests will love the unique addition to the day! At Leigh Court, your dog could even play a starring role by walking down the same staircase that was featured in hit show Bridgerton – how cool would that be?

Have them join you at the alter
Getting married is definitely a family affair and some couples like to have children, or pets, join them as they exchange their vows, which we love to see! It makes the occasion even more special and ensures for some lovely photographs and memories. Claire, our wedding coordinator is happy to talk to you about how this would work and be on hand to bring your dog/s in at the right moment!
Dance the night away
The reception is something guests and couples alike look forward to on the day. Who doesn't love a dance? Once the formalities are over, you can all let your hair down! Why not get a friend, family member or dog sitter to bring your dog to the reception, so they can enjoy the fun too? You could include them in your first dance, or have them next to you whilst cutting the cake!

Add them to your stationery
Rather than your dog attending on the day, you could have an illustration or photo of them added to your wedding stationery, which would be adorable! You could even organise an engagement photoshoot and feature them on your 'save the date' cards or have someone draw their furry faces onto your wedding invitations, making them even more unique. It's a great way of including them without having to look after them on the day.

Use their face as a photo booth prop
Photo booths have become extremely popular in recent years, adding a fun addition to the reception and helping create great memories of your guests. From crazy hairstyles, to funky glasses and hilarious signs, the props make the photos, so why not include your dog in the fun? Have their face made into a prop for people to use whilst posing for pictures with friends and family. We have plenty of space in our reception rooms to accommodate a photo booth.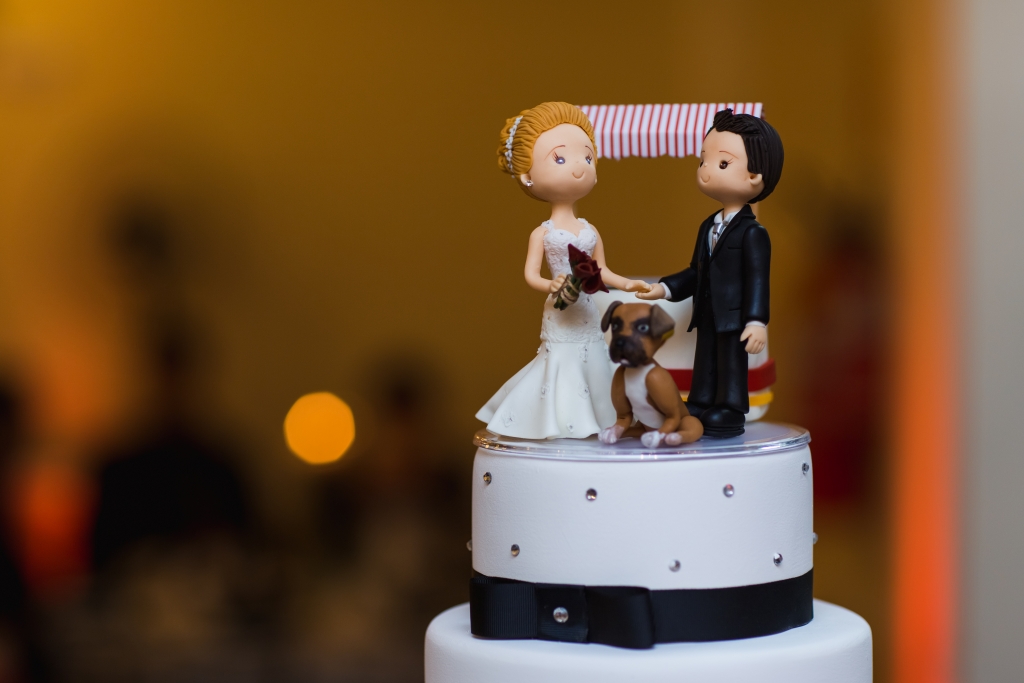 Incorporate them into your cake
Cake toppers certainly make your wedding cake unique, and there are all sorts of styles to choose from – we've seen some brilliant ones in our time. Why not add your dog to the top spot, alongside you and your partner? You can ask your baker to render them in icing, or commission someone to make one in clay or wood, to represent your dog's personality – it certainly makes for a talking point on the day!
There are so many ways to include your dog in your wedding day; we have mentioned just a few here. However you choose to do it the Claire, our Wedding Coordinator and the rest of the team at Leigh Court are happy to discuss options with you, to ensure your beloved pet does not miss out on the fun! Feel free to get in touch here.