We've re-decorated and upgraded one of our rooms here at Leigh Court; the immense Library is the biggest room in the house! Adjoining the Morning Room, Great Hall and the Tapestry Room, the Library has five floor-to-ceiling windows that open out to the lawns towards Leigh Woods.
What we can do with this room is endless, but here's 5 of the most popular uses of the Library; now painted gold and uplifted!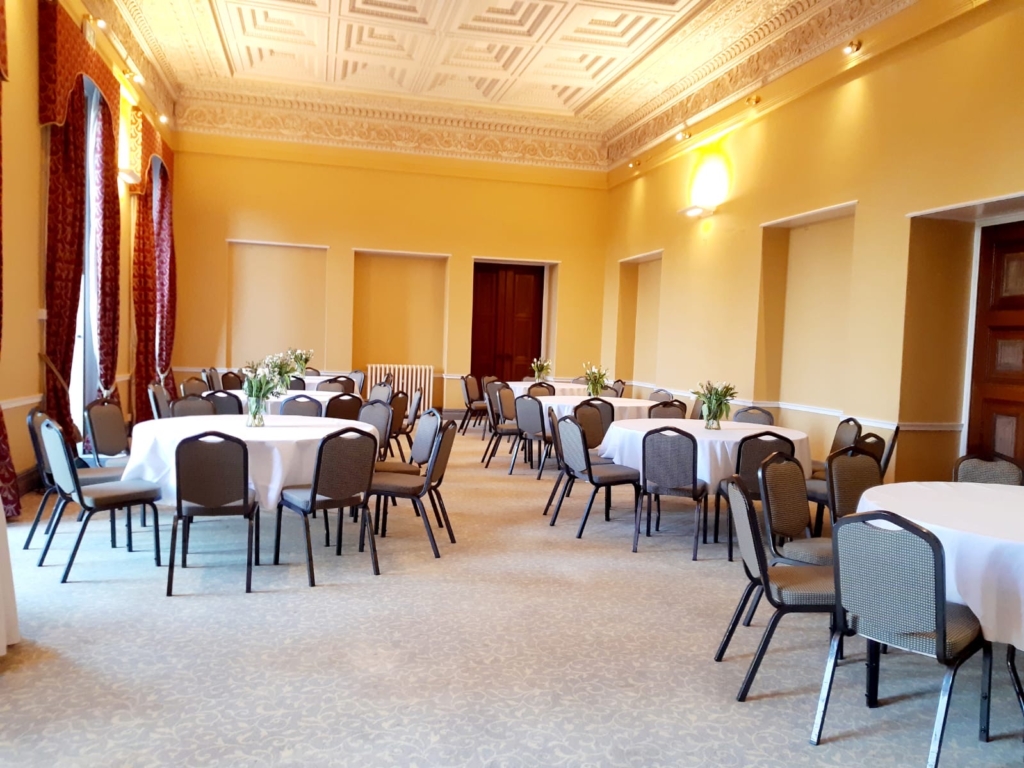 1. Conferences and networking events
The Library is where we hold many business conferences and staff days. Theatre style, we can seat 150 people in this room, with the capability for AV, microphones and a stage. This is perfect for addressing your entire company and delivering the business side to a staff day before the fun begins.
Also an elegant backdrop for a networking event, the Library can host 150 people for a standing event, or if you are looking to add speakers or a lunch to your event, then seating people around tables cabaret style would ensure we'd be able to get 54 people in this room.
Our caterers, Berry Blue Creative Food, will be on hand when you book your corporate conference, networking event or workshop and can provide anything from 3 course lunches, to a light afternoon snack with refreshments.
2. Fun away days and staff days
Whatever the weather, your staff fun day can be held at Leigh Court, with the Library being the largest space to host stalls and tables. Additionally, with the 5 floor to ceiling windowed doors leading out into the grounds, the Library and it's patio can create a cool space to retire to in the summer when the sun is beaming down on your funfair, country pursuits or food stands. You can find out more about the fun activities that our partners, ACF Teambuilding can put together here.
3. Wedding breakfasts
One of the main rooms that we use for Weddings, the Library stands out as a beautiful room to hold your wedding breakfast in, as we can seat 109 for food. If this isn't quite enough for you, we also have the Tapestry and Morning rooms next door, as well as access to acres of land outside with the availability of hiring a marquee on our grounds. We have so much space, your wedding can be as intimate or as huge as you wish.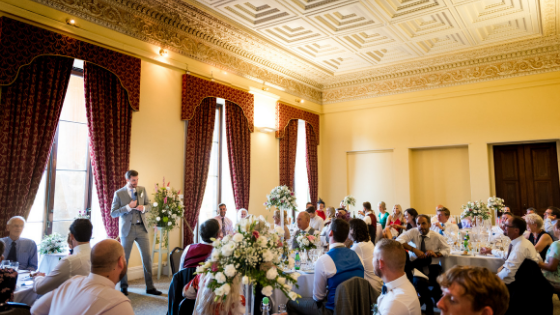 4. Wakes
The Library makes a beautiful room for a funeral service or wake.
Here are some kind words that one of our recent customers sent to us:
"I just wanted to say a big thank you to everyone at Leigh Court for making our wake last Thursday such a perfect and fitting tribute to my husband.

It was a pleasure to meet you to make all the arrangements. You were so kind, caring and understanding. You softened the sadness of the occasion and turned it into a true feeling of celebration.

The afternoon tea was delicious and ample – many people said so. Just a little left over rather than not enough! The building was much admired and possibly there could be other bookings coming your way along with a wedding. I think that really says it all!"
5. Showcases
Used for various other events like showcases and charity clothes swaps, the Library can be your blank canvas for designing the event that you need. We've held wedding showcases here ourselves, as well as fashion shows, proms, product showcases and exhibitions.
If you're not sure whether Leigh Court is the right venue for you, get in touch with our event coordinators who will be able to help design your event and let you know how we'd be able help to deliver it for you.
---