We pride ourselves on producing an exemplary event experience, no matter what kind of event you are looking to host, and this is why we partner with one of the finest award-winning caterers in the South West.
Berry Blue Creative Food came to life in a farm in Gloucestershire over a decade ago. Louise Brown founded the company to bring local and seasonal produce to venues throughout the Gloucestershire and Bristol areas, guaranteeing customers a bespoke, ethical and sustainable catering service.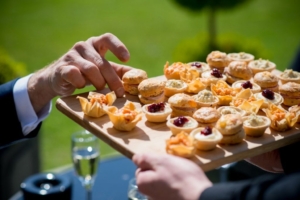 Food for your corporate event
We'll work with you and Berry Blue to provide a catering service that suits both your needs and your budget. Whether it's a finger buffet for a networking event, or a 2-course sit-down meal for a director's meeting, Berry Blue will always work with seasonal foods to best fit the occasion. Please contact us at enquiry@leighcourt.co.uk for the latest menus and price list.
Sustainability
The farm, and Louise's home, are situated on the edge of the beautiful Cotswolds in Gloucestershire. In her garden, Louise grows all sorts of vegetables, including pumpkins, carrots, salads, and herbs; and in her orchard, there are trees bearing a wealth of apples, pears, and damsons. Although not all produce listed on our menus is grown at Louise's farm, you will always find her fruits and vegetables sprinkled throughout your meals, and everything else is bought from similarly sustainable sources.
Dietary requirements
Berry Blue can also cater to a range of dietary requirements and allergens, providing gluten-free, dairy-free, nut-free, and meat-free dishes. You can even create an entirely vegetarian or vegan menu if you wish! The meat-free menus are just as mouth-watering and exciting as any other menu, as the chefs at Berry Blue pride themselves on excellent plant-based cooking.
Memorable food at your event
If you are looking for something fun, funky or creative for your delegates or staff to remember and talk about, we can provide it. Berry Blue offers a wide range of exciting food for your corporate event, including (but not limited to!) an outdoor oven-fired pizza parlour, an ice cream tricycle and dessert station, Champagne buffets, street food stalls, and summer BBQs!
Some examples of our catering include:
Fine dinning
Breakfasts and brunch
Finger buffets
Summer BBQs
Street food
Sweet treats to go with refreshments
Christmas party food
Sit-down dining
Cream teas
Champagne brunches or buffets
Christmas Parties
Finally, we create delicious, bespoke and seasonal menus for work Christmas parties at Leigh Court. Berry Blue's Christmas menus are festive and flavourful, and perfect for any staff do or Christmas gathering, large or small.
Kind words from our corporate clients
"The building is stunning, and our members and guests are always impressed, as they are with the food and service." – The Society of Cosmetic Scientists
"The team at Leigh Court always set the room up to our specifications and the food is always great. All aspects of the booking (from initial contact through to the actual event) are dealt with very professionally and well organised.  It's always nice to be in beautiful surroundings of Leigh Court too!" – Safety Horizon South West
Get in contact with us to find out how we can bring your event to life with fantastic food from Berry Blue Creative; you can email us at enquiry@leighcourt.co.uk