Meet the "I Do" Crew
Each month we're asking our "I Do" Crew the questions every recently engaged couple is asking, from photography to guest lists our trio of recently or soon-to-be wedded bloggers share their insights into planning a wedding. So far, we've asked them to tell us the first decision they made after getting engaged, how they chose their wedding venue, and how they navigated the tricky territory of inviting plus ones to a wedding.
This month we're asking the crew about their wedding cakes, as making your own cake becomes an increasingly popular choice.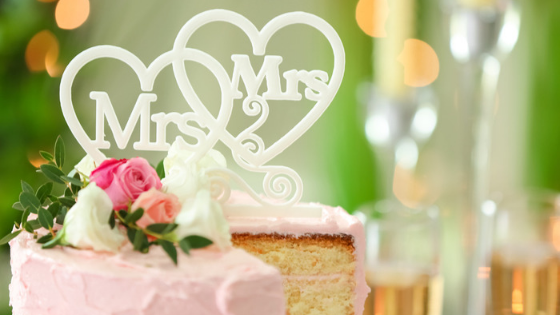 The recently married one: Married in August 2018, describes her wedding as 'a perfect day better than I ever imagined.'
The groom: Married in July 2018, describes his wedding as 'a chilled and fun day, with loads of our friends and family.'
The bride-to-be: Getting Married in September 2019, describes her upcoming wedding as 'the day I marry my best friend surrounded by the people we love the most.'
We ask the I Do Crew whether they bought their wedding cakes or made their own.
The recently married one
My sister made wedding brownies and we brought a large tier to display them on with flowers and strawberries. It was the best cake in the world I wouldn't change it at all!
The groom
The maid of honour made our wedding cake. We had around 200 guests at our wedding so we decided to have a cake table with loads of different goodies made by family and friends instead of one big cake. I don't think we would of done it differently, I think people liked the variety.
The bride-to-be
We're having two wedding cakes! One will be a cheese stack that will also act as our evening buffet with cured meats, chutneys and crackers etc. And my Mother and I will also be making a small traditional wedding cake as a fun activity for planning. I'm going to book us onto a sugar craft course so we can learn how to make flowers and add them to the cake. For me, it's all about the experience of planning and I really want to make it fun and exciting.
The wedding coordinator
When it comes to wedding cakes, the I Do Crew have all fully embraced the DIY wedding trend. If you have the support that will ensure this stays a fun part of the wedding experience, then go for it! If you think you might be baking by yourself at midnight before the wedding then maybe look at buying one, whether that's from a wedding cake specialist or from trusty M&S is up to you!
Next month, we ask the I Do Crew whether they had, or are planning to have, an open bar at their wedding.