Whatever the season, size, or occasion, Leigh Court promises to whisk you away for an unforgettable wedding day
The Grade II-listed mansion has been a showstopping part of Bristol's history and landscape for over 200 years, with its Regency-era grandeur and expansive 27-acre manicured lawn making it the perfect secret escape for newlyweds. Despite being only a hop, skip, and jump away from the iconic Clifton Suspension Bridge and the charming Clifton Village, Leigh Court is a hidden gem nestled in the heart of Leigh Woods, where you can experience the tranquility of being away from the hustle and bustle.
To ensure that sure you and your guests have the perfect day, afternoon, or evening, our friendly team has curated two special wedding packages that allow room for flexibility, personal preferences, and bespoke services.
Whatever your request we'll do our best to accommodate, and you can enquire today for further details and prices.
"Thank you to everyone at Leigh Court for making our day so amazing. From the moment we stepped through the door, to leaving as Mr and Mrs, every moment was perfect. You made everything so special."
Mr & Mrs Smith
Discover Leigh Court's rooms and facilities
Whether you are looking for an intimate wedding venue that strikes the right chord, or somewhere that can accommodate your impressive guest list, you'll have exclusive use of Leigh Court's distinctive rooms and lawn for your wedding day.
Make a grand entrance in the Great Hall or your wedding marquee
As you enter the Great Hall, you'll be transported back to the Regency era of balls and banquets, where the extraordinary floating double staircase and high ceilings were made for dramatic entrances. The Great Hall was recently featured in Netflix's Bridgerton amongst other period dramas, so we're sure that its classic backdrop is going to impress. It's also a lovely place to display your wedding cake, or have a harpist, string quartet, or live band play during the ceremony and reception, with the room having natural acoustics.
For larger parties, we have a wedding marquee that you can use for your wedding breakfast or evening celebrations. You'll be next door to Leigh Court and will have full access to its facilities.
Dine and dance in style in the sun-drenched Library
The spacious Library is a fabulous location for your wedding breakfast, with room for all of your nearest and dearest. If you want to dance the night away, the dining tables can quickly disappear and be replaced with a shimmering dancefloor. During the warmer months, the doors of the Library open directly onto the rolling, manicured lawn – the ideal viewing spot for a fireworks display.
Toast the bride and groom in the Tapestry and Morning rooms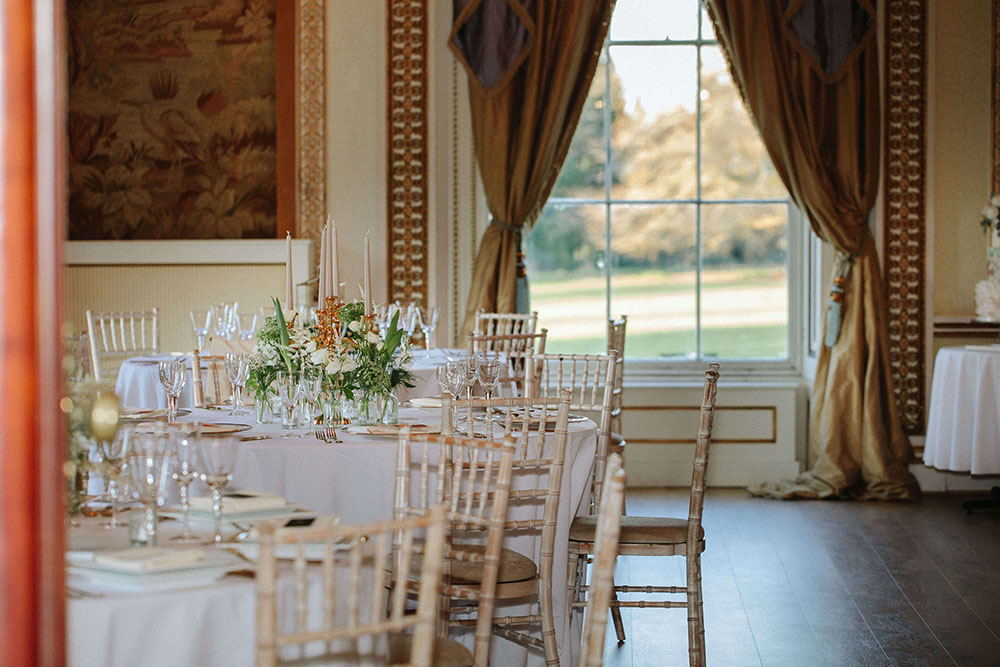 The Tapestry Room is elaborately decorated, with stunning gold finishes and a decorative ceiling. Start your special day here, with live music, canapes, and a cake display, or host your wedding breakfast in a room fit for royalty.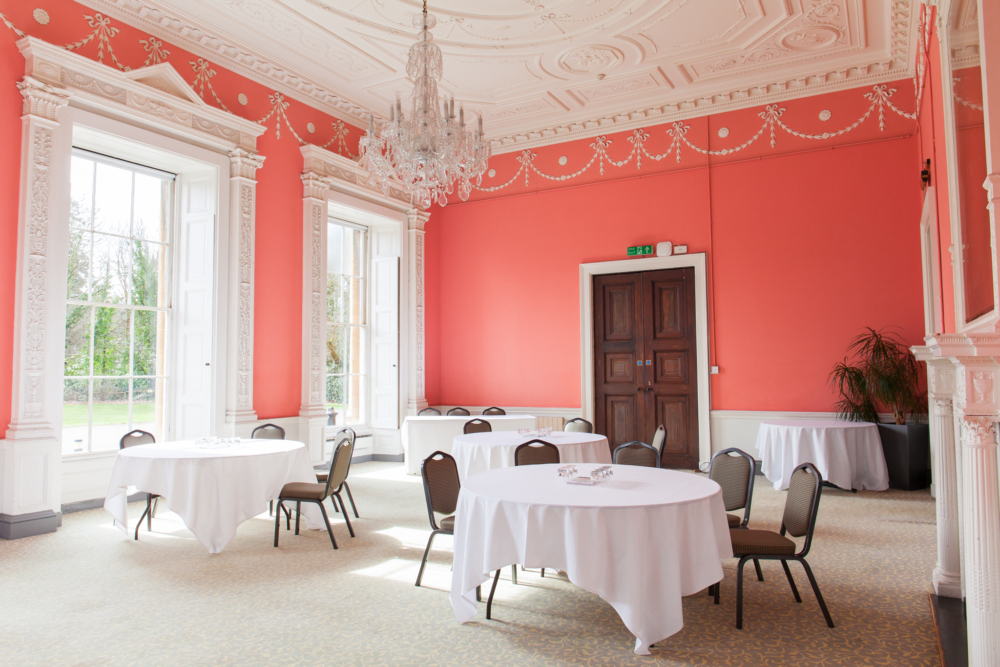 The Morning Room adjoins the Library and is a lovely option for a 'snug room', serving tea and coffee for guests. The blush pink walls with white details make this beautiful room an excellent choice for afternoon tea or vintage-inspired celebrations.
If you would like to learn more about our rooms and facilities, please don't hesitate to email enquiry@leighcourt.co.uk or call 01275 373373 to be put in touch with a member of our team.
Our Wedding Packages
Our Palladium and Twilight packages have been created to help you plan your perfect wedding day or evening. Both packages will give you exclusive use of the rooms and grounds, delicious first-class food from award-winning caterers, Berry Blue, as well as a dedicated wedding coordinator, amongst other wedding essentials!
To add your own finishing touches, we also have the following extras that you can add to your plan:
Host your wedding reception or evening celebration in a marquee or tipi on the lawns
Additional evening guests
Canapes/tea and coffee
Hire a sweetie bar or ice cream tricycle
We will happily provide you with our price plan for each of our packages, as well as the rates for the additional extras. Please email enquiry@leighcourt.co.uk for more information and one of our friendly team members will be in touch.